Hearts Galore Toe Socks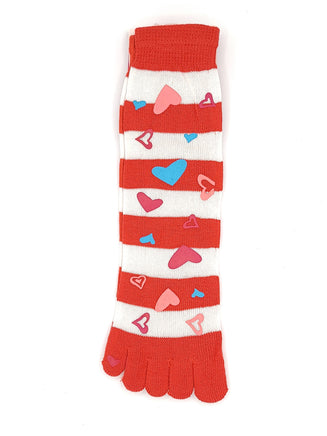 These cute Red and White Striped Heart Toe Socks look great on all of your little piggies including the one that stayed home.
When socks have compartments for your individual toes, your toes can move more freely - the feeling is much like being barefoot. Additionally, during colder weather ToeHugger Toe Socks keep your feet much warmer than traditional socks - plus, our Toe Socks do not slip as much as other socks, and they are
 loads of fun.

 If you are a sandal lover then you will love our Toe Socks with your sandals, because you still get the freedom you get from going barefoot, but when its a little cooler outside the sock provides the right amount of warmth.
ToeHugger Toe Socks are made of: 


Acrylic 92.1%

Nylon 5.1% 

Spandex 1.9%

Rubber 0.9%
Machine wash in warm water and tumble dry low. Please do not use bleach.